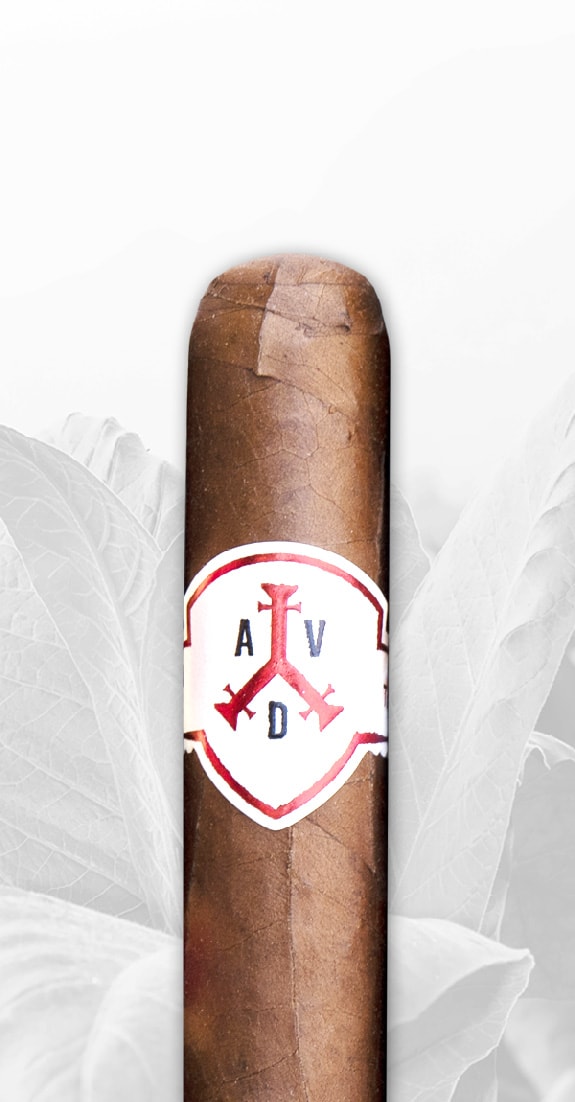 ADV & McKay Cigars
Dominican Republic
The Explorer Robusto Grande

|

Art.-Nr. 10001| 5 x 54

|

20er Kiste
11.60 € per Cigar

The Explorer Corona Gorda

|

Art.-Nr. 10002| 5 3/4 x 46

|

20er Kiste
10.60 € per Cigar

The Explorer Gran Toro Box Pressed

|

Art.-Nr. 10003| 6 x 54

|

20er Kiste
12.30 € per Cigar

The Explorer Gordo

|

Art.-Nr. 10004| 6 x 60

|

20er Kiste
13.20 € per Cigar

The Navigator Pinzon Robusto

|

Art.-Nr. 10005| 5 1/2 x 50

|

20er Kiste
11.10 € per Cigar

The Navigator Cabral Toro

|

Art.-Nr. 10006| 6 x 54

|

20er Kiste
11.80 € per Cigar

The Navigator Ponce de Leon Gordo

|

Art.-Nr. 10007| 6 x 60

|

20er Kiste
12.10 € per Cigar

The Navigator Francis D. Corona

|

Art.-Nr. 10008| 6 x 44

|

20er Kiste
10.90 € per Cigar

The Conqueror Comandante Robusto

|

Art.-Nr. 10009| 5 x 50

|

20er Kiste
12.20 € per Cigar

The Conqueror Almirante Toro

|

Art.-Nr. 10010| 6 x 54

|

20er Kiste
12.60 € per Cigar

The Conqueror Capitan Gordo

|

Art.-Nr. 10011| 6 x 60

|

20er Kiste
13.20 € per Cigar

The Royal Return Queen´s Pearls Robusto

|

Art.-Nr. 10013| 4 1/2 x 50

|

20er Kiste
13.20 € per Cigar

The Royal Return Queen´s Pearls Toro

|

Art.-Nr. 10014| 6 x 54

|

20er Kiste
13.70 € per Cigar

The Royal Return Queen´s Pearls Corona

|

Art.-Nr. 10015| 6 x 44

|

20er Kiste
12.90 € per Cigar

The Royal Return King´s Gold Robusto

|

Art.-Nr. 10016| 5 x 52

|

20er Kiste
15.50 € per Cigar

The Royal Return King´s Gold Toro

|

Art.-Nr. 10017| 6 x 54

|

20er Kiste
15.90 € per Cigar

The Royal Return King´s Gold Corona

|

Art.-Nr. 10018| 6 x 44

|

20er Kiste
15.20 € per Cigar

Piece of Hearts Short Belicoso

|

Art.-Nr. 10019| 5 x 52

|

5er Päckchen
11.00 € per Cigar

Barbarroja´s Invasion Corona

|

Art.-Nr. 10020| 6 x 44

|

20er Kiste
13.90 € per Cigar

Barbarroja´s Invasion Robusto

|

Art.-Nr. 10021| 5 x 52

|

20er Kiste
14.50 € per Cigar

Barbarroja´s Invasion Toro

|

Art.-Nr. 10022| 6 x 54

|

20er Kiste
15.00 € per Cigar
Marcel Knobel, co-founder and partner of "ADV & McKay Cigars" and entrepreneur from Switzerland, has been working in the tobacco industry with passion and enthusiasm for several years. Knobel's real inspiration is simple: the tobacco plant completely enchanted him. His new cigars reflect his credo: "Flavour First – Label Second". In doing so, he emphasizes that for him, enjoyment is the only priority. His goal is to create complex and tasty cigars that give the Aficionado a variety of bouquets and real explosions of taste. The focus of this brand is therefore clearly on the highest quality, which is underlined with innovative and unique packaging.
Blended from the finest tobaccos from Ecuador, Nicaragua, Mexico and the Dominican Republic and manufactured to the highest quality standards, these cigars impress with a uniquely fine and balanced taste.
"The Explorer" with its Mexican wrapper carries the taste nuance of dark chocolate. The filler gives this collection a pleasant spiciness and at the same time a slight sweetness, with aromas of leather and wood. The line is suitable for connoisseurs and beginning Aficionados. The raw tobacco of these cigars matures for five to seven years and the cigars then mature for another six months.
"The Navigator" line is the most complex of all ADV mixes. Tobaccos from five different origins are blended together and offer a bouquet of mocha and roasted nuts. When all the elements combine, leathery spiciness, hints of toffee and caramel combine to linger and delight the palate. The raw tobacco matures in about five years and the cigar then matures for 5-6 months.
Strength: medium
"The Conqueror" offers a medium-strength cigar. The start comes with a bouquet of dark chocolate, nutty aromas and a slightly salty touch. This is followed by sweet aromas of caramel and cedar wood.​ The raw tobacco in these cigars is aged for 4-5 years before the cigars are aged for a further 4-5 months.
Strength: medium
For the "The Royal Returns – Queen's Pearls & King's Gold" line tobaccos matured for five years and the rolled cigars for four months, too.
According to ADV, the ""Queen's Pearls"" cigar is an interpretation of a classic Connecticut that retains a light profile thanks to a special fermentation process.
Strength: mild – medium
Due to the rare quality of the tobaccos used, the "King's Gold" is only produced as a limited small series.
Strength: medium – strong
The mild cigars have a fine aroma and are specially produced for the "Piece of Heart" project. A portion of the proceeds will provide free corrective glasses to needy children in the Caribbean.
Strength: mild – medium
The next chapter for ADVentura is a bit darker and more aggressive with the "Barbarroja's Invasion" line. This cigar is wrapped in a dark Mexican San Andres wrapper over Dominican binders and fillers. It took two years of tweaking and experimentation to create this full-bodied cigar.
Strength: strong
Name
Marken
Ort
Wolsdorff Tobacco Dresden wolsdorff.shop
Marken:

ADV & McKay Cigars

Brun del Ré

Frauenstraße 9,

01067 Dresden

Erik´ s Tabakhaus
Marken:

ADV & McKay Cigars

Brun del Ré

DBL Dominican Big Leaguer

Dunbarton

Oberlauengasse 8,
07743 Jena

Tabakfreund tabakfreund.de
Marken:

ADV & McKay Cigars

DBL Dominican Big Leaguer

Brun del Ré

Blackbird

Schönhauser Allee 101
10439 Berlin-Pankow

Starke Zigarren / Delicious Berlin starkezigarren.de
Marken:

ADV & McKay Cigars

DBL Dominican Big Leaguer

La Rosa de Sandiego

Dunbarton

Pariser Str. 54,
10719 Berlin

Noblego noblego.de
Marken:

Brun del Ré

ADV & McKay Cigars

DBL Dominican Big Leaguer

La Regenta

La Rosa de Sandiego

Monte Pascoal

Blackbird

Aura E.P. Carrillo Shengxiao Limited Edition

Grunewaldstraße 14-15,

10823 Berlin

Tabakhaus Simon GmbH
Marken:

DBL Dominican Big Leaguer

ADV & McKay Cigars

Friedrich-Ebert-Str. 22,
14467 Potsdam

TASTE it tase-it-glienicke.de
Marken:

Brun del Ré

DBL Dominican Big Leaguer

ADV & McKay Cigars

Hauptstraße 65,

16548 Glienicke

Weinhandlung F. Schollenberger www.weinhandlung-schollenberger.de
Marken:

La Rosa de Sandiego

ADV & McKay Cigars

Brun del Ré

Blackbird

Barnstorfer Weg 22
18057 Rostock

BRINKMANNfinest brinkmannfinest.de
Marken:

ADV & McKay Cigars

Mecklenburgstraße 13,

19053 Schwerin

Wolsdorff Tobacco Hamburg wolsdorff.shop
Marken:

ADV & McKay Cigars

Brun del Ré

Spitaler Str. 16,
20095 Hamburg

Wolsdorff Tobacco Lübeck wolsdorff.shop
Marken:

ADV & McKay Cigars

Breite Str. 63,
23552 Lübeck

Loch Mor Spirits – Whisky and more
Marken:

ADV & McKay Cigars

Dunbarton

Peterstr. 24,
23701 Eutin

Hacico hacico.de
Marken:

Monte Pascoal

DBL Dominican Big Leaguer

ADV & McKay Cigars

Brun del Ré

Kolumbus

Dunbarton

La Rosa de Sandiego

Industriestraße 18,

25469 Halstenbek

Rauchr.de rauchr.de
Marken:

Monte Pascoal

Brun del Ré

Kolumbus

ADV & McKay Cigars

DBL Dominican Big Leaguer

Industriestr. 18,

25469 Halstenbek

Cigar & Whisky Kiehne cigar-whisky-kiehne.de
Marken:

ADV & McKay Cigars

Zum Niederntor 27,
31832 Springe

Tabakhaus Paderborn tabakhaus-paderborn.de
Marken:

ADV & McKay Cigars

DBL Dominican Big Leaguer

Kisau 5,
33098 Paderborn

Wolsdorff Tobacco Kassel
Marken:

Brun del Ré

ADV & McKay Cigars

DEZ
Frankfurter Str. 225,
34134 Kassel

Wolsdorff Tobacco Fulda
Marken:

Brun del Ré

ADV & McKay Cigars

Universitätsplatz 1,
36037 Fulda

Wolsdorff Tobacco Göttingen
Marken:

Brun del Ré

ADV & McKay Cigars

Weender str. 70,
37073 Göttingen

Wolsdorff Tobacco Braunschweig
Marken:

ADV & McKay Cigars

Brun del Ré

Schlossarkaden
Platz am Ritterbrunnen 1,
38100 Braunschweig

Linzbach tobacco.de
Marken:

Monte Pascoal

Brun del Ré

ADV & McKay Cigars

Graf-Adolf-Straße 78,

40210 Düsseldorf 

Cigarworld cigarworld.de
Marken:

Monte Pascoal

Brun del Ré

Kolumbus

ADV & McKay Cigars

DBL Dominican Big Leaguer

La Regenta

Blackbird

La Rosa de Sandiego

Dunbarton

The Bouncer

Aura E.P. Carrillo Shengxiao Limited Edition

Dissim

The OX Society

Burghofstraße 28,

40223 Düsseldorf 

La Casa del Tobacco lacasadetabaco.de
Marken:

DBL Dominican Big Leaguer

ADV & McKay Cigars

Rheydter Str. 2,
41065 Mönchengladbach

Cigarren Baydar & Sahin zigarrenlounge-essen.de
Marken:

Brun del Ré

ADV & McKay Cigars

DBL Dominican Big Leaguer

Aura E.P. Carrillo Shengxiao Limited Edition

Hollestraße 1,

45127 Essen

Wolsdorff Tobacco Mülheim an der Ruhr wolsdorff.shop
Marken:

ADV & McKay Cigars

Rhein-Ruhr Zentrum,
Humboldtring 13
45472 Mülheim an der Ruhr

Wolsdorff Tobacco Gelsenkirchen wolsdorff.shop
Marken:

Brun del Ré

ADV & McKay Cigars

Hochstraße 10
45894 Gelsenkirchen

Whiskyhort shop.whiskyhort.com
Marken:

Brun del Ré

ADV & McKay Cigars

DBL Dominican Big Leaguer

Blackbird

La Rosa de Sandiego

Nohlstraße 67,

46045 Oberhausen

Tabakhaus Balster tabakhaus-balster.com
Marken:

Brun del Ré

ADV & McKay Cigars

Halterner Straße 98,
46284 Dorsten

Werner Bunn Zigarren & Spirituosen
Marken:

Brun del Ré

ADV & McKay Cigars

La Regenta

Monte Pascoal

Moselstraße 4,

47051 Duisburg

Börgmann Tabakwaren
Marken:

Brun del Ré

La Regenta

ADV & McKay Cigars

DBL Dominican Big Leaguer

Monte Pascoal

La Rosa de Sandiego

Augustastraße 53,

47198 Duisburg

Finest Tobacco & More finest-tobacco-and-more.de
Marken:

Brun del Ré

La Regenta

ADV & McKay Cigars

DBL Dominican Big Leaguer

An der Münze 14,
47533 Kleve

Zigarrenhaus Lünger
Marken:

Brun del Ré

ADV & McKay Cigars

La Rosa de Sandiego

Krefelder Straße 10,

47839 Krefeld-Hüls

Whisky & Cigar Salon whiskycigarsalon.com
Marken:

ADV & McKay Cigars

DBL Dominican Big Leaguer

Mühlenplatz 1,

48599 Gronau

Pfeifen Heinrichs peterheinrichs.de
Marken:

Brun del Ré

ADV & McKay Cigars

DBL Dominican Big Leaguer

La Regenta

Voltastraße 17

50129 Bergheim

Brühler Whiskyhaus www.whiskyhaus.de
Marken:

Brun del Ré

Kolumbus

ADV & McKay Cigars

La Regenta

La Rosa de Sandiego

DBL Dominican Big Leaguer

Balthasar-Neumann-Platz 28-30,

50321 Brühl

Wolsdorff Tobacco Hürth
Marken:

ADV & McKay Cigars

Im Hürth Park, Theresienhöhe L032,
50354 Hürth

Zigarrenwelt zigarrenwelt.de
Marken:

Brun del Ré

ADV & McKay Cigars

DBL Dominican Big Leaguer

Dunbarton

Kaiser Wilhelm Ring 12,

50672 Köln

Em Tabaksdösje zigarren-traum.de
Marken:

Brun del Ré

ADV & McKay Cigars

La Regenta

Dunbarton

Buchheimer Str. 50,

51063 Köln

Onlineshop Tabakoos https://www.ebay.de/usr/tabakoos
Marken:

Brun del Ré

DBL Dominican Big Leaguer

Kolumbus

ADV & McKay Cigars

La Regenta

Monte Pascoal

Dunbarton

La Rosa de Sandiego

Scheuermühlenstraße 59,
51147 Köln

Schneiderwind schneiderwind.de
Marken:

Monte Pascoal

ADV & McKay Cigars

Brun del Ré

DBL Dominican Big Leaguer

Kolumbus

Lindenplatz 11-12,

52064 Aachen

Wolsdorff Tobacco Bonn wolsdorff.shop
Marken:

Brun del Ré

ADV & McKay Cigars

Poststr. 24,
53111 Bonn

C. Cigars c-cigars.de
Marken:

ADV & McKay Cigars

Brun del Ré

DBL Dominican Big Leaguer

La Rosa de Sandiego

Dunbarton

Dissim

Trierer Straße 18,

54516 Wittlich

Lotto & Tabak Walter
Marken:

DBL Dominican Big Leaguer

ADV & McKay Cigars

Hospitalstraße 13
55232 Alzey

Wolsdorff Tobacco Koblenz wolsdorff.shop
Marken:

Brun del Ré

ADV & McKay Cigars

Am Plan 2,

56068 Koblenz

Casita del Tabaco casitadeltabaco.de
Marken:

Brun del Ré

ADV & McKay Cigars

Mittelstraße 75,
58285 Gevelsberg

Wolsdorff Tobacco Hamm wolsdorff.shop
Marken:

Brun del Ré

ADV & McKay Cigars

Allee-Center,
Richard-Matthei-Platz 1,
59065 Hamm

Zigarren Rohn
Marken:

Brun del Ré

ADV & McKay Cigars

Kolumbus

DBL Dominican Big Leaguer

Monte Pascoal

Blackbird

La Rosa de Sandiego

Dunbarton

Hauptwache-Passage

B-Ebene,

60313 Frankfurt am Main

Der Weinladen derweinladen-rodgau.de
Marken:

Brun del Ré

ADV & McKay Cigars

Ludwig Erhard Platz 2-4,

63110 Rodgau

Zigarrenhaus Menrath
Marken:

Brun del Ré

Monte Pascoal

ADV & McKay Cigars

Kolumbus

DBL Dominican Big Leaguer

Treibgasse 5,

63739 Aschaffenburg

Cigarren Weber top-cigars.de
Marken:

ADV & McKay Cigars

DBL Dominican Big Leaguer

Blackbird

Hildenbrandstraße 1,

63743 Aschaffenburg

Feingeist GmbH fein-geist.de
Marken:

ADV & McKay Cigars

La Regenta

Monte Pascoal

Brun del Ré

DBL Dominican Big Leaguer

Klinger 1c,
63776 Mömbris

Tabakhaus Falkum falkum.de
Marken:

DBL Dominican Big Leaguer

Monte Pascoal

ADV & McKay Cigars

Brun del Ré

Hauptstraße 30,

63897 Miltenberg

Rum Company rumcompany.de
Marken:

Brun del Ré

ADV & McKay Cigars

DBL Dominican Big Leaguer

Hans Stiglitz Weg 2,

63897 Miltenberg 

M & Z Point
Marken:

Brun del Ré

ADV & McKay Cigars

DBL Dominican Big Leaguer

Eberstädter Str. 71,

64319 Pfungstadt 

Rauchkultur Seiler rauchkultur-seiler.de
Marken:

Brun del Ré

Monte Pascoal

DBL Dominican Big Leaguer

ADV & McKay Cigars

Bahnhofstraße 19,

64625 Bensheim

118,4 news & more 118komma4.de
Marken:

Brun del Ré

ADV & McKay Cigars

Kolumbus

La Regenta

DBL Dominican Big Leaguer

La Rosa de Sandiego

Fabrikstraße 2,

64625 Bensheim

Dalay Zigarren dalayzigarren.de
Marken:

ADV & McKay Cigars

Fürstenstraße 15,

66111 Saarbrücken

CFFC
Marken:

ADV & McKay Cigars

DBL Dominican Big Leaguer

Gäustrasse 1,

67361 Freisbach

Tabaklädsche tabalaedsche.com
Marken:

Brun del Ré

ADV & McKay Cigars

Marktstraße 20,

67655 Kaiserslautern

Falke Exklusive falke-exklusive.de
Marken:

ADV & McKay Cigars

Monte Pascoal

Carl-Theodor-Str. 27,
68723 Schwetzingen

Alte Tabakstube am Schillerplatz altetabakstube.de
Marken:

Dunbarton

ADV & McKay Cigars

Monte Pascoal

Schillerplatz 4,
70173 Stuttgart

Crazy Store Bisingen crazy-store-bisingen.business.site
Marken:

ADV & McKay Cigars

Blackbird

Hauptstr. 52,
72406 Bisingen

Billy's Kitchen & Bar www.bistrobillys.de
Marken:

ADV & McKay Cigars

Brun del Ré

DBL Dominican Big Leaguer

La Rosa de Sandiego

Dunbarton

Schleissheimer Straße 303,

80809 München

Wolsdorff Tobacco Augsburg wolsdorff.shop
Marken:

ADV & McKay Cigars

Willy-Brandt-Platz 1,
86153 Augsburg

Bermuda Spirit Company Ulm
Marken:

Brun del Ré

ADV & McKay Cigars

DBL Dominican Big Leaguer

Hafengasse 28,
89073 Ulm

Casa del Puro casadelpuro.de
Marken:

ADV & McKay Cigars

Brun del Ré

DBL Dominican Big Leaguer

Monte Pascoal

Hauptmarkt 9,
90403 Nürnberg

Michael Schäffler Tabakwaren
Marken:

ADV & McKay Cigars

DBL Dominican Big Leaguer

Maxstraße 30,

90762 Fürth

Wolsdorff Tobacco Erlangen wolsdorff.shop
Marken:

ADV & McKay Cigars

Brun del Ré

Nürnberger Straße 7,
91052 Erlangen

Stephani Tabak und Cigarren www.zigarre.de
Marken:

ADV & McKay Cigars

Blackbird

Bahnhofstraße 17,

94032 Passau

BlindTast Erich Markert facebook.com/BlindTast-107499637337816
Marken:

ADV & McKay Cigars

DBL Dominican Big Leaguer

Unterer Katzenbergweg 25b, 97084 Würzburg