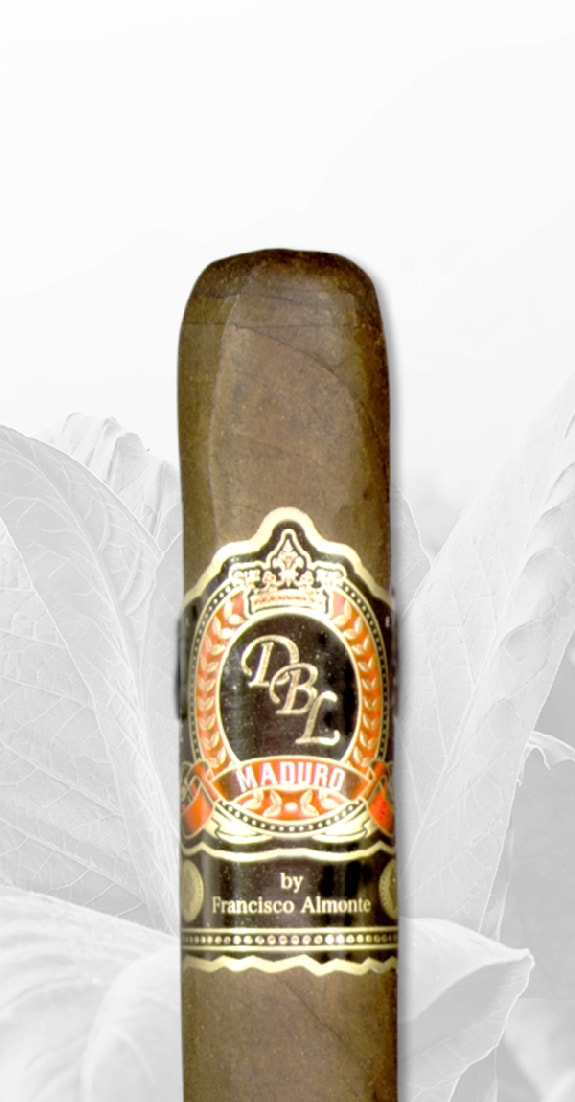 DBL Dominican Big Leaguer
Dominican Republic
Amarillo Robusto

|

Art.-Nr. 15001| 5 x 52

|

20er Kiste
8.50 € per Cigar

Amarillo Toro

|

Art.-Nr. 15002| 5 7/8 x 56

|

20er Kiste
9.80 € per Cigar

Amarillo Churchill

|

Art.-Nr. 15003| 6 3/4 x 50

|

20er Kiste
9.80 € per Cigar

Amarillo Fancy Belicoso

|

Art.-Nr. 15004| 5 1/2 x 54

|

20er Kiste
10.80 € per Cigar

Maduro Little Bull

|

Art.-Nr. 15005| 4 x 54

|

24er Kiste
8.80 € per Cigar

Maduro La Maquina

|

Art.-Nr. 15006| 4 x 60

|

24er Kiste
9.20 € per Cigar

Maduro La Flecha

|

Art.-Nr. 15007| 5 1/2 x 50

|

24er Kiste
9.20 € per Cigar

Maduro Big Papi

|

Art.-Nr. 15008| 6 x 54

|

24er Kiste
10.80 € per Cigar

Maduro El Grande

|

Art.-Nr. 15009| 6 x 60

|

24er Kiste
12.80 € per Cigar

Mafu Cameroon Toro Box Pressed

|

Art.-Nr. 15010| 6 x 54

|

30er Kiste
12.60 € per Cigar

Mafu San Andres Toro Box Pressed

|

Art.-Nr. 15011| 6 x 54

|

30er Kiste
12.60 € per Cigar

Mafu San Andres Grande

|

Art.-Nr. 15012| 8 x 60

|

30er Kiste
16.00 € per Cigar

Mafu Cameroon Grande

|

Art.-Nr. 15013| 8 x 60

|

30er Kiste
16.00 € per Cigar

Extra Viejo Robusto

|

Art.-Nr. 15014| 5 1/4 x 50

|

20er Kiste
10.50 € per Cigar

Extra Viejo Toro

|

Art.-Nr. 15015| 5 7/8 x 54

|

20er Kiste
11.50 € per Cigar

Extra Viejo Gorda

|

Art.-Nr. 15016| 5 3/4 x 60

|

20er Kiste
12.50 € per Cigar

Formula Petit Corona

|

Art.-Nr. 15017| 5 1/4 x 44

|

18er Kiste
8.30 € per Cigar

Formula Belicoso

|

Art.-Nr. 15018| 5 5/8 x 54

|

18er Kiste
10.80 € per Cigar

Formula Toro

|

Art.-Nr. 15019| 6 1/8 x 54

|

18er Kiste
11.80 € per Cigar

Formula Gorda

|

Art.-Nr. 15020| 7 x 60

|

18er Kiste
15.00 € per Cigar

Big Mama Super Gorda

|

Art.-Nr. 15021| 7 x 68

|

20er Kiste
14.00 € per Cigar

La Pipa

|

Art.-Nr. 15022| 2 1/5 x 56

|

4er Kiste
17.50 € per Cigar

2a Generacion

|

Art.-Nr. 15023| 6 5/8 x 52

|

16er Kiste
12.60 € per Cigar

Derrame III Toro

|

Art.-Nr. 15024| 6 1/4 x 57

|

20er Kiste
13.80 € per Cigar

35th Anniversary

|

Art.-Nr. 15025| 6 1/8 x 56

|

20er Kiste
13.80 € per Cigar

Maduro Baseball Bat

|

Art.-Nr. 15026| 7 x 64

|

Einzelverpackung
25.00 € per Cigar

Natural Baseball Bat

|

Art.-Nr. 15027| 7 x 64

|

Einzelverpackung
25.00 € per Cigar

Maduro Atomic Ant

|

Art.-Nr. 15029| 4 x 40

|

24er Kiste
4.90 € per Cigar

El Final Maduro Toro

|

Art.-Nr. 15030| 5 9/10 x 52

|

10er Kiste
10.80 € per Cigar

El Final Cameroon Toro

|

Art.-Nr. 15031| 5 9/10 x 52

|

10er Kiste
10.80 € per Cigar

El Final Connecticut Robusto

|

Art.-Nr. 15032| 5 9/10 x 52

|

10er Kiste
9.80 € per Cigar
The cigars of the manufacturer "DBL – Dominican Big Leaguer" are made entirely by hand in Tamboril, Dominican Republic, in the manufactory of Francisco Almonte. Almonte came into contact with tobacco at the age of 7 and acquired extensive knowledge during his work at A. Fuente and as a master blender at LFD – La Flor Dominicana.
With his own cigar factory, Francisco Almonte has fulfilled his dream. At the same time, he dedicates his cigars to the long tradition of tobacco in his family and, as a passionate baseball fan, honors the players of his homeland.
The line "Maduro" prove to be medium-strong cigars and delight the modern cigar smoker with rich aromas. Each of these cigars is named after a star of the MLB – Major Baseball League.
Strength: medium-strong
This "Amarillo" cigar whips up with fine aromas and a balanced taste. The wrapper of the cigar was stored in a former rum barrel for several months, which gives it its unique aroma.
Strength: mild – medium
The strong "Mafu" cigar has a full aroma. It was named after Mafu, an elderly gentleman who ensures order and cleanliness in the DBL factory.
Strength: strong
This unique "Baseball Bat" vitola reflects Francisco Almonte's passion for baseball. It is a unique cigar, which of course was made entirely by hand and is completely smokable.
Strength: medium – strong
Francisco Almonte developed the "35th Anniversary" for his 35th anniversary in the tobacco industry and selected ""Ultra Premium"" tobaccos for this limited blend himself. With the Piloto Cubano, the insert contains one of the most sought-after tobaccos in the Dominican Republic.
Strength: medium – strong
The "2a Generacion" is an exclusive line, limited to 500 boxes and only available in one format. Rare and unique tobaccos were chosen for the blend. The insert also consists exclusively of tobaccos, which come from Francisco's own cultivation.
Strength: medium – strong
The "Derrame III" convinces with a full aroma and complex taste.The highlight of this series is the silky – oily sun-grown Maduro wrapper from San Andres, Mexico, which gives this cigar its unique flavor.
Strength: medium – strong
The "Formula" is a powerful full-strength cigar, which is characterized by larger formats and robust aromas. It offers a peppery opening that transitions into a smooth, earthy body with notes of coffee and cedar. Each cigar is made with unique tobacco handpicked by Francisco Almonte himself.
Strength: strong
"Extra Viejo" is an exquisite cigar. Her beautiful Mexican Arapiraca wrapper is smooth and silky with a dark, oily sheen. It is a medium-strength cigar that packs plenty of rich, flavorful flavors.
Strength: medium – strong
The "El Final" line offers a variety of flavors. The Connecticut opens with an aroma of cinnamon and chocolate. The Cameroon, on the other hand, dominates with caramel. The Maduro again trumps with dark chocolate.
Attention: The cigars of the El Final line are dipped with aromatic substances on the mouthpiece. Please point this out to customers.
Strength: Connecticut = mild / Cameroon = medium / Maduro = medium – strong
Name
Marken
Ort
Erik´ s Tabakhaus
Marken:

ADV & McKay Cigars

Brun del Ré

DBL Dominican Big Leaguer

Dunbarton

Oberlauengasse 8,
07743 Jena

Angel´s share Whisky
Marken:

Brun del Ré

DBL Dominican Big Leaguer

Blackbird

Markt 9
07973 Greiz

Tabakfreund tabakfreund.de
Marken:

ADV & McKay Cigars

DBL Dominican Big Leaguer

Brun del Ré

Blackbird

Schönhauser Allee 101
10439 Berlin-Pankow

Zigarren Reich privatecigars.net
Marken:

Brun del Ré

DBL Dominican Big Leaguer

Berliner Straße 1,

10715 Berlin-Wilmersdorf

Starke Zigarren / Delicious Berlin starkezigarren.de
Marken:

ADV & McKay Cigars

DBL Dominican Big Leaguer

La Rosa de Sandiego

Dunbarton

Pariser Str. 54,
10719 Berlin

Noblego noblego.de
Marken:

Brun del Ré

ADV & McKay Cigars

DBL Dominican Big Leaguer

La Regenta

La Rosa de Sandiego

Monte Pascoal

Blackbird

Aura E.P. Carrillo Shengxiao Limited Edition

Grunewaldstraße 14-15,

10823 Berlin

Tabakhaus Simon GmbH
Marken:

DBL Dominican Big Leaguer

ADV & McKay Cigars

Friedrich-Ebert-Str. 22,
14467 Potsdam

TASTE it tase-it-glienicke.de
Marken:

Brun del Ré

DBL Dominican Big Leaguer

ADV & McKay Cigars

Hauptstraße 65,

16548 Glienicke

Les Privatiers les-privatiers-shop.de
Marken:

DBL Dominican Big Leaguer

Strandallee 142,

23669 Timmendorfer Strand

Hacico hacico.de
Marken:

Monte Pascoal

DBL Dominican Big Leaguer

ADV & McKay Cigars

Brun del Ré

Kolumbus

Dunbarton

La Rosa de Sandiego

Industriestraße 18,

25469 Halstenbek

Rauchr.de rauchr.de
Marken:

Monte Pascoal

Brun del Ré

Kolumbus

ADV & McKay Cigars

DBL Dominican Big Leaguer

Industriestr. 18,

25469 Halstenbek

Tabakhaus Paderborn tabakhaus-paderborn.de
Marken:

ADV & McKay Cigars

DBL Dominican Big Leaguer

Kisau 5,
33098 Paderborn

Cigarworld cigarworld.de
Marken:

Monte Pascoal

Brun del Ré

Kolumbus

ADV & McKay Cigars

DBL Dominican Big Leaguer

La Regenta

Blackbird

La Rosa de Sandiego

Dunbarton

The Bouncer

Aura E.P. Carrillo Shengxiao Limited Edition

Dissim

The OX Society

Burghofstraße 28,

40223 Düsseldorf 

La Casa del Tobacco lacasadetabaco.de
Marken:

DBL Dominican Big Leaguer

ADV & McKay Cigars

Rheydter Str. 2,
41065 Mönchengladbach

Cigarren Baydar & Sahin zigarrenlounge-essen.de
Marken:

Brun del Ré

ADV & McKay Cigars

DBL Dominican Big Leaguer

Aura E.P. Carrillo Shengxiao Limited Edition

Hollestraße 1,

45127 Essen

Whiskyhort shop.whiskyhort.com
Marken:

Brun del Ré

ADV & McKay Cigars

DBL Dominican Big Leaguer

Blackbird

La Rosa de Sandiego

Nohlstraße 67,

46045 Oberhausen

Tabak Fink tabak-fink.de
Marken:

DBL Dominican Big Leaguer

Osterstraße 57,
46397 Bocholt

Börgmann Tabakwaren
Marken:

Brun del Ré

La Regenta

ADV & McKay Cigars

DBL Dominican Big Leaguer

Monte Pascoal

La Rosa de Sandiego

Augustastraße 53,

47198 Duisburg

Finest Tobacco & More finest-tobacco-and-more.de
Marken:

Brun del Ré

La Regenta

ADV & McKay Cigars

DBL Dominican Big Leaguer

An der Münze 14,
47533 Kleve

Whisky & Cigar Salon whiskycigarsalon.com
Marken:

ADV & McKay Cigars

DBL Dominican Big Leaguer

Mühlenplatz 1,

48599 Gronau

Pfeifen Heinrichs peterheinrichs.de
Marken:

Brun del Ré

ADV & McKay Cigars

DBL Dominican Big Leaguer

La Regenta

Voltastraße 17

50129 Bergheim

Brühler Whiskyhaus www.whiskyhaus.de
Marken:

Brun del Ré

Kolumbus

ADV & McKay Cigars

La Regenta

La Rosa de Sandiego

DBL Dominican Big Leaguer

Balthasar-Neumann-Platz 28-30,

50321 Brühl

Zigarrenwelt zigarrenwelt.de
Marken:

Brun del Ré

ADV & McKay Cigars

DBL Dominican Big Leaguer

Dunbarton

Kaiser Wilhelm Ring 12,

50672 Köln

Onlineshop Tabakoos https://www.ebay.de/usr/tabakoos
Marken:

Brun del Ré

DBL Dominican Big Leaguer

Kolumbus

ADV & McKay Cigars

La Regenta

Monte Pascoal

Dunbarton

La Rosa de Sandiego

Scheuermühlenstraße 59,
51147 Köln

Schneiderwind schneiderwind.de
Marken:

Monte Pascoal

ADV & McKay Cigars

Brun del Ré

DBL Dominican Big Leaguer

Kolumbus

Lindenplatz 11-12,

52064 Aachen

C. Cigars c-cigars.de
Marken:

ADV & McKay Cigars

Brun del Ré

DBL Dominican Big Leaguer

La Rosa de Sandiego

Dunbarton

Dissim

Trierer Straße 18,

54516 Wittlich

Lotto & Tabak Walter
Marken:

DBL Dominican Big Leaguer

ADV & McKay Cigars

Hospitalstraße 13
55232 Alzey

Zigarren Rohn
Marken:

Brun del Ré

ADV & McKay Cigars

Kolumbus

DBL Dominican Big Leaguer

Monte Pascoal

Blackbird

La Rosa de Sandiego

Dunbarton

Hauptwache-Passage

B-Ebene,

60313 Frankfurt am Main

Zigarrenhaus Menrath
Marken:

Brun del Ré

Monte Pascoal

ADV & McKay Cigars

Kolumbus

DBL Dominican Big Leaguer

Treibgasse 5,

63739 Aschaffenburg

Cigarren Weber top-cigars.de
Marken:

ADV & McKay Cigars

DBL Dominican Big Leaguer

Blackbird

Hildenbrandstraße 1,

63743 Aschaffenburg

Feingeist GmbH fein-geist.de
Marken:

ADV & McKay Cigars

La Regenta

Monte Pascoal

Brun del Ré

DBL Dominican Big Leaguer

Klinger 1c,
63776 Mömbris

Tabakhaus Falkum falkum.de
Marken:

DBL Dominican Big Leaguer

Monte Pascoal

ADV & McKay Cigars

Brun del Ré

Hauptstraße 30,

63897 Miltenberg

Rum Company rumcompany.de
Marken:

Brun del Ré

ADV & McKay Cigars

DBL Dominican Big Leaguer

Hans Stiglitz Weg 2,

63897 Miltenberg 

M & Z Point
Marken:

Brun del Ré

ADV & McKay Cigars

DBL Dominican Big Leaguer

Eberstädter Str. 71,

64319 Pfungstadt 

Rauchkultur Seiler rauchkultur-seiler.de
Marken:

Brun del Ré

Monte Pascoal

DBL Dominican Big Leaguer

ADV & McKay Cigars

Bahnhofstraße 19,

64625 Bensheim

118,4 news & more 118komma4.de
Marken:

Brun del Ré

ADV & McKay Cigars

Kolumbus

La Regenta

DBL Dominican Big Leaguer

La Rosa de Sandiego

Fabrikstraße 2,

64625 Bensheim

CFFC
Marken:

ADV & McKay Cigars

DBL Dominican Big Leaguer

Gäustrasse 1,

67361 Freisbach

Billy's Kitchen & Bar www.bistrobillys.de
Marken:

ADV & McKay Cigars

Brun del Ré

DBL Dominican Big Leaguer

La Rosa de Sandiego

Dunbarton

Schleissheimer Straße 303,

80809 München

Bermuda Spirit Company Ulm
Marken:

Brun del Ré

ADV & McKay Cigars

DBL Dominican Big Leaguer

Hafengasse 28,
89073 Ulm

Casa del Puro casadelpuro.de
Marken:

ADV & McKay Cigars

Brun del Ré

DBL Dominican Big Leaguer

Monte Pascoal

Hauptmarkt 9,
90403 Nürnberg

Michael Schäffler Tabakwaren
Marken:

ADV & McKay Cigars

DBL Dominican Big Leaguer

Maxstraße 30,

90762 Fürth

BlindTast Erich Markert facebook.com/BlindTast-107499637337816
Marken:

ADV & McKay Cigars

DBL Dominican Big Leaguer

Unterer Katzenbergweg 25b, 97084 Würzburg