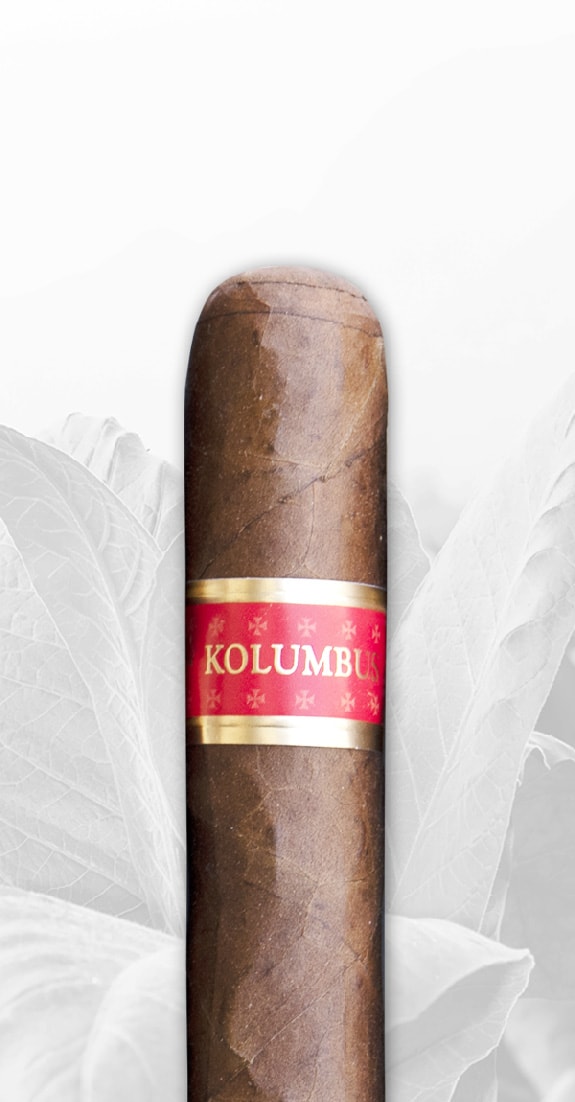 Kolumbus
Canary Islands
K-Azul Robustito

|

Art.-Nr. 25001| 4 x 50

|

8er Kiste
8.90 € per Cigar

K-Azul Robusto

|

Art.-Nr. 25002| 4 4/5 x 50

|

8er Kiste
10.20 € per Cigar

K-Azul Piramide

|

Art.-Nr. 25003| 6 x 52

|

8er Kiste
10.80 € per Cigar

K-Negro Robustito

|

Art.-Nr. 25004| 4 x 50

|

8er Kiste
9.40 € per Cigar

K-Negro Robusto

|

Art.-Nr. 25005| 4 4/5 x 50

|

8er Kiste
10.20 € per Cigar

K-Negro Piramide

|

Art.-Nr. 25006| 6 x 52

|

8er Kiste
10.40 € per Cigar

K-Rojo Robustito

|

Art.-Nr. 25007| 4 x 50

|

8er Kiste
9.20 € per Cigar

K-Rojo Robusto

|

Art.-Nr. 25008| 4 4/5 x 50

|

8er Kiste
10.20 € per Cigar

K-Rojo Piramide

|

Art.-Nr. 25009| 6 x 52

|

8er Kiste
10.20 € per Cigar
Behind the "Kolumbus" brand are three entrepreneurs who have made it their goal to spread their passion for cigars and their knowledge of tobacco cultivation. The story began when the three friends watched the sunset together on the Atlantic coast on La Palmera with a good cigar and a glass of rum. As they watched the sun sink into the sea, they thought of Christopher Columbus and his discovery of America. Inspired by this legacy, they embarked on a journey of discovery for the best tobaccos.
The cigars of the Kolumbus brand are unique premium cigars, which are entirely by hand-made on the Canary Island of La Palma. These cigars are made from the best Palmero tobaccos, which have been gently matured in cellars lined with Spanish cedar. Each of these cigars embodies more than 300 years of cigar tradition in the Canary Islands. The combination of the excellent, carefully selected tobaccos, the long tradition of tobacco production on the Canary Islands and the permanent striving for improvement of the founders make these cigars one of the best in the world.
The cigars of the "K-Azul" line have a balanced, mild taste.
Strength: mild
The cigars of the "K-Rojo" line offer a rich aroma, a distinct taste of leather, cedar and tobacco.
Strength: strong
The "K-Negro" line offers a full flavor and rich aroma. Light honey sweetness combined with mature tobacco and chocolate.
Strength: medium
Name
Marken
Ort
Hacico hacico.de
Marken:

Monte Pascoal

DBL Dominican Big Leaguer

ADV & McKay Cigars

Brun del Ré

Kolumbus

Dunbarton

La Rosa de Sandiego

Industriestraße 18,

25469 Halstenbek

Rauchr.de rauchr.de
Marken:

Monte Pascoal

Brun del Ré

Kolumbus

ADV & McKay Cigars

DBL Dominican Big Leaguer

Industriestr. 18,

25469 Halstenbek

Cigarworld cigarworld.de
Marken:

Monte Pascoal

Brun del Ré

Kolumbus

ADV & McKay Cigars

DBL Dominican Big Leaguer

La Regenta

Blackbird

La Rosa de Sandiego

Dunbarton

The Bouncer

Aura E.P. Carrillo Shengxiao Limited Edition

Dissim

The OX Society

Burghofstraße 28,

40223 Düsseldorf 

Brühler Whiskyhaus www.whiskyhaus.de
Marken:

Brun del Ré

Kolumbus

ADV & McKay Cigars

La Regenta

La Rosa de Sandiego

DBL Dominican Big Leaguer

Balthasar-Neumann-Platz 28-30,

50321 Brühl

Onlineshop Tabakoos https://www.ebay.de/usr/tabakoos
Marken:

Brun del Ré

DBL Dominican Big Leaguer

Kolumbus

ADV & McKay Cigars

La Regenta

Monte Pascoal

Dunbarton

La Rosa de Sandiego

Scheuermühlenstraße 59,
51147 Köln

Schneiderwind schneiderwind.de
Marken:

Monte Pascoal

ADV & McKay Cigars

Brun del Ré

DBL Dominican Big Leaguer

Kolumbus

Lindenplatz 11-12,

52064 Aachen

Zigarren Rohn
Marken:

Brun del Ré

ADV & McKay Cigars

Kolumbus

DBL Dominican Big Leaguer

Monte Pascoal

Blackbird

La Rosa de Sandiego

Dunbarton

Hauptwache-Passage

B-Ebene,

60313 Frankfurt am Main

Schanz Tabak
Marken:

Monte Pascoal

Kolumbus

Brun del Ré

Neustadt 25,

63645 Büdingen

Zigarrenhaus Menrath
Marken:

Brun del Ré

Monte Pascoal

ADV & McKay Cigars

Kolumbus

DBL Dominican Big Leaguer

Treibgasse 5,

63739 Aschaffenburg

118,4 news & more 118komma4.de
Marken:

Brun del Ré

ADV & McKay Cigars

Kolumbus

La Regenta

DBL Dominican Big Leaguer

La Rosa de Sandiego

Fabrikstraße 2,

64625 Bensheim