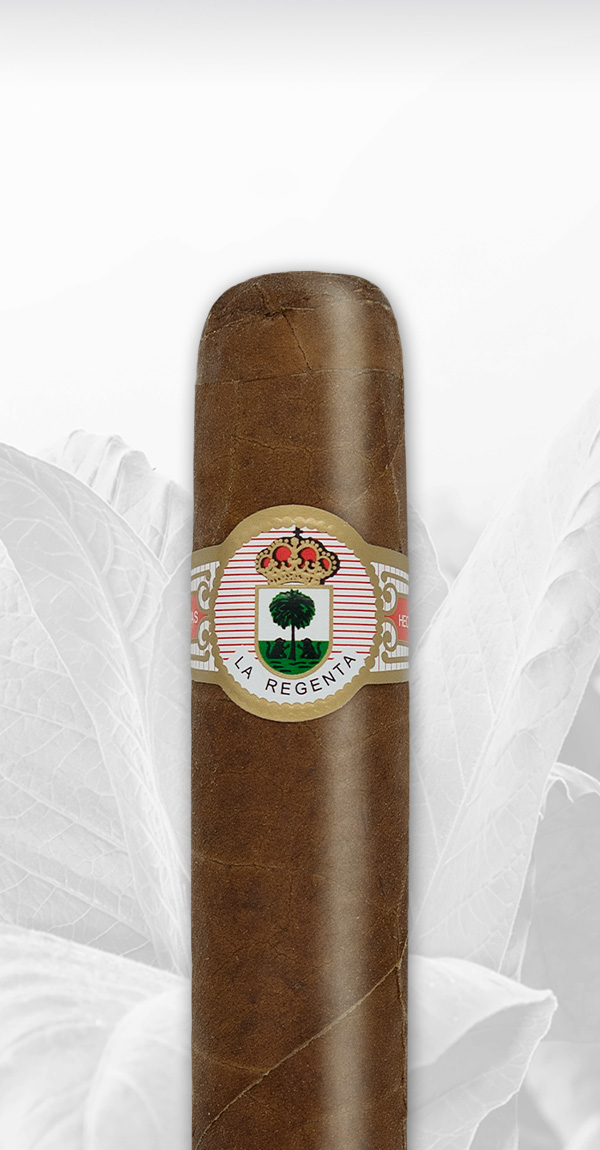 La Regenta
Canary Islands
Classic Robustos

|

Art.-Nr. 20001| 4 1/2 x 50

|

25er Kiste
4.95 € per Cigar

Classic No. 1

|

Art.-Nr. 20002, 20003| 6 1/2 x 40

|

25er Kiste, 10er Kiste
5.80 € per Cigar

Classic No. 3

|

Art.-Nr. 20004, 20005| 5 5/8 x 40

|

25er Kiste, 10er Kiste
4.95 € per Cigar

Maduro Magnum

|

Art.-Nr. 20006| 6 1/2 x 56

|

5er Kiste
8.40 € per Cigar

Maduro Titan

|

Art.-Nr. 20007| 5 1/2 x 56

|

5er Kiste
8.20 € per Cigar

Maduro AT56

|

Art.-Nr. 20008| 4 3/4 x 56

|

5er Kiste
7.90 € per Cigar

Maduro Short Robusto

|

Art.-Nr. 20009| 3 1/2 x 50

|

25er Kiste
6.20 € per Cigar

Maduro Pirámide

|

Art.-Nr. 20010| 6 x 58

|

10er Kiste
8.00 € per Cigar

Reserva Limitada

|

Art.-Nr. 20011| 6 x 50

|

25er Kiste
9.20 € per Cigar

Especial Edicion Especiales

|

Art.-Nr. 20012| 5 2/5 x 42

|

25er Kiste
5.20 € per Cigar

Especial Edicion Robusto

|

Art.-Nr. 20013| 4 3/4 x 50

|

5er Schachtel
6.80 € per Cigar
The "La Regenta" brand cigars are made by Dos Santos S.A.U. manufactured on the Canary Islands since the 1920s. These are handmade on the Canary Island of Gran Canaria in Las Palmas. Fábricaen Longfillers are mild – aromatic and suitable for both beginners and enthusiasts.
With its mild, slightly sweet aroma, the "Classic" line is the ideal cigar for beginners or lovers of mild enjoyment.
Strength: mild
This aromatic cigar from the "Maduro" has a strong character and intense taste. It is quite mild and creamy, but always spicy.
Strength: medium
Name
Marken
Ort
Noblego noblego.de
Marken:

Brun del Ré

ADV & McKay Cigars

DBL Dominican Big Leaguer

La Regenta

La Rosa de Sandiego

Monte Pascoal

Blackbird

Aura E.P. Carrillo Shengxiao Limited Edition

Grunewaldstraße 14-15,

10823 Berlin

Cigarworld cigarworld.de
Marken:

Monte Pascoal

Brun del Ré

Kolumbus

ADV & McKay Cigars

DBL Dominican Big Leaguer

La Regenta

Blackbird

La Rosa de Sandiego

Dunbarton

The Bouncer

Aura E.P. Carrillo Shengxiao Limited Edition

Dissim

The OX Society

Burghofstraße 28,

40223 Düsseldorf 

Werner Bunn Zigarren & Spirituosen
Marken:

Brun del Ré

ADV & McKay Cigars

La Regenta

Monte Pascoal

Moselstraße 4,

47051 Duisburg

Börgmann Tabakwaren
Marken:

Brun del Ré

La Regenta

ADV & McKay Cigars

DBL Dominican Big Leaguer

Monte Pascoal

La Rosa de Sandiego

Augustastraße 53,

47198 Duisburg

Finest Tobacco & More finest-tobacco-and-more.de
Marken:

Brun del Ré

La Regenta

ADV & McKay Cigars

DBL Dominican Big Leaguer

An der Münze 14,
47533 Kleve

Pfeifen Heinrichs peterheinrichs.de
Marken:

Brun del Ré

ADV & McKay Cigars

DBL Dominican Big Leaguer

La Regenta

Voltastraße 17

50129 Bergheim

Brühler Whiskyhaus www.whiskyhaus.de
Marken:

Brun del Ré

Kolumbus

ADV & McKay Cigars

La Regenta

La Rosa de Sandiego

DBL Dominican Big Leaguer

Balthasar-Neumann-Platz 28-30,

50321 Brühl

Em Tabaksdösje zigarren-traum.de
Marken:

Brun del Ré

ADV & McKay Cigars

La Regenta

Dunbarton

Buchheimer Str. 50,

51063 Köln

Onlineshop Tabakoos https://www.ebay.de/usr/tabakoos
Marken:

Brun del Ré

DBL Dominican Big Leaguer

Kolumbus

ADV & McKay Cigars

La Regenta

Monte Pascoal

Dunbarton

La Rosa de Sandiego

Scheuermühlenstraße 59,
51147 Köln

Feingeist GmbH fein-geist.de
Marken:

ADV & McKay Cigars

La Regenta

Monte Pascoal

Brun del Ré

DBL Dominican Big Leaguer

Klinger 1c,
63776 Mömbris

118,4 news & more 118komma4.de
Marken:

Brun del Ré

ADV & McKay Cigars

Kolumbus

La Regenta

DBL Dominican Big Leaguer

La Rosa de Sandiego

Fabrikstraße 2,

64625 Bensheim