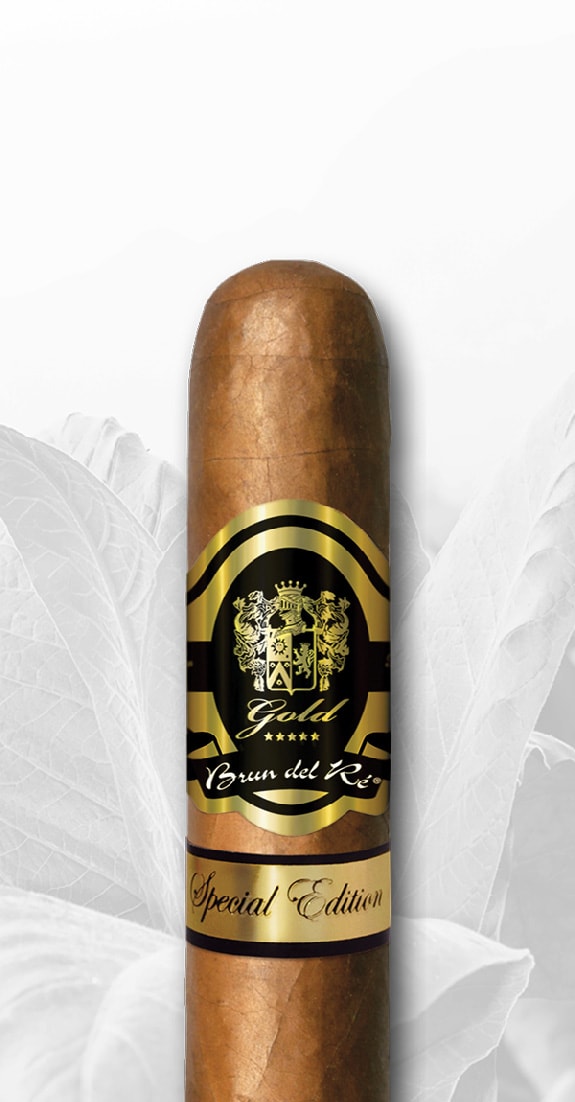 Brun del Ré
Costa Rica
Premium Robusto

|

Art.-Nr. 35001, 30002| 5 x 50

|

25er Kiste, 5er Schachtel
7.40 € per Cigar

Premium Corona

|

Art.-Nr. 35003, 30004| 6 x 44

|

25er Kiste, 5er Schachtel
7.20 € per Cigar

Gold Torpedo Inmenso

|

Art.-Nr. 35005| 4 x 62

|

10er Schachtel
5.90 € per Cigar

Gold Robusto

|

Art.-Nr. 35006, 30007| 5 x 50

|

25er Kiste, 5er Schachtel
8.40 € per Cigar

Gold Perfecto

|

Art.-Nr. 35008| 5 1/2 x 54

|

25er Kiste
9.40 € per Cigar

Gold Torpedo

|

Art.-Nr. 35009, 30010| 6 x 54

|

25er Kiste, 5er Schachtel
8.90 € per Cigar

1787 Rain Forest Short Robusto

|

Art.-Nr. 35011| 3 1/2 x 50

|

10er Schachtel
6.90 € per Cigar

1787 Rain Forest Piccolo

|

Art.-Nr. 35012| 3 x 44

|

10er Schachtel
4.50 € per Cigar

Rain Forest Robusto Inmenso

|

Art.-Nr. 35013, 30014| 4 x 60

|

30er Kiste, 10er Schachtel
7.00 € per Cigar

Rain Forest Long Robusto

|

Art.-Nr. 35015| 5 1/2 x 50

|

10er Schachtel
9.00 € per Cigar

1787 Libertad Supremo

|

Art.-Nr. 35016, 30017| 6 x 60

|

30er Kiste, 10er Schachtel
10.80 € per Cigar

1638 Episodio 2 L.E. Supremo

|

Art.-Nr. 35018, 30019| 6 x 60

|

30er Kiste, 10er Schachtel
10.50 € per Cigar

Bicentenario L.E. Robusto

|

Art.-Nr. 35020, 30021| 5 x 50

|

20er Kiste, 10er Schachtel
10.90 € per Cigar

Bicentenario L.E. Supremo

|

Art.-Nr. 35022, 30023| 6 x 60

|

20er Kiste, 10er Schachtel
13.20 € per Cigar

Colonial Robusto

|

Art.-Nr. 35024, 30025| 5 x 50

|

25er Kiste, 5er Schachtel
9.50 € per Cigar

Piccolo Gold

|

Art.-Nr. 35026, 30027| 3 x 44

|

50er Kiste, 10er Schachtel
4.50 € per Cigar

Piccolo Black

|

Art.-Nr. 35028, 30029| 3 x 44

|

50er Kiste, 10er Schachtel
4.20 € per Cigar

Mini Natural, Forest, Vaina

|

Art.-Nr. 35030, 30031, 35032| 4 1/2 x 26

|

10er Schachtel
1.20 € per Cigar

Piccolo Sampler

|

Art.-Nr. 35033| 3 x 44

|

3er Schachtel
4.00 € per Cigar
"Brun del Ré" is the name of an ancient Adriatic family that has settled all over the world over the generations. A branch of the family, named Corazza, settled in eastern Switzerland. In 2000, Carlo Corazza emigrated to Costa Rica and opened a jewelry store. He made a lounge out of the adjoining rooms of his shop. He had his own cigars made and distributed them to friends and customers there. The reputation of his cigars preceded him and quickly became an insider tip for Aficionados, who appreciated the mild yet complex aroma of those cigars. In the meantime, these cigars are handcrafted in limited numbers by experienced master blenders in a small factory in Costa Rica according to old traditions. They put together the blends of the high-quality long fillers with tobaccos from Costa Rica, Nicaragua, Indonesia, Ecuador and the Dominican Republic according to the highest Swiss quality standards. This creates unique formats and blends that cannot be found anywhere else.
The Brun del Ré brand thus stands for Swiss quality standards and craftsmanship, paired with Costa Rican tradition. This is how excellent cigars are created at an extremely fair price. In 2014, Brun del Ré won the Cigar Trophy for the best cigar in Costa Rica.
With its mild aroma, the "Premium" line is the ideal cigar for beginners. Fine tobacco from Nicaragua is processed, wrapped in a Connecticut wrapper.
Strength: mild
The cigars in the "Gold" line have a balanced, aromatic taste. They are medium-bodied, have a good draw and firm ash. They are excellent as a late afternoon cigar.
Strength: medium
The "1638" line stands for care, quality, taste and love for the product from Brun del Ré.
Strength: medium
The Vitolas of the "1787" line are tasteful cigars made from tobacco that grows on the rich, volcanic soil of Costa Rica. This line has a sweet taste combined with strong and aromatic Creole tobacco binder. The Rainforest diffuses the fresh aromas of the tropical rainforest: notes of wood and citrus fruits in a blend paired with spices and sweet notes.
Strength: medium
The formats of the "Colonial" line are tasteful cigars that offer a full flavor and perfect aroma.
Strength: medium strength
The "Piccolos" have a balanced blend of first class tobacco. Small size with full aroma. They were created for the smoker who doesn't want to do without the taste of a long filler for a short smoke time.
Strength: Gold = mild / Black = medium
The "Mini Cigarillos" are available in 3 different flavors.
Forest shows a chocolaty, mild taste, Vaina has a fine vanilla aroma and Natural convinces with a pure tobacco taste.
Strength: medium
Name
Marken
Ort
Gin House Dresden dresden-ginhouse.de
Marken:

Brun del Ré

Rampische Str. 3,
01067 Dresden

Wolsdorff Tobacco Dresden wolsdorff.shop
Marken:

ADV & McKay Cigars

Brun del Ré

Frauenstraße 9,

01067 Dresden

Tabak Stöckert
Marken:

Brun del Ré

Sorge 8,
07545 Gera

Erik´ s Tabakhaus
Marken:

ADV & McKay Cigars

Brun del Ré

DBL Dominican Big Leaguer

Dunbarton

Oberlauengasse 8,
07743 Jena

Angel´s share Whisky
Marken:

Brun del Ré

DBL Dominican Big Leaguer

Blackbird

Markt 9
07973 Greiz

Tabakfreund tabakfreund.de
Marken:

ADV & McKay Cigars

DBL Dominican Big Leaguer

Brun del Ré

Blackbird

Schönhauser Allee 101
10439 Berlin-Pankow

Zigarren Reich privatecigars.net
Marken:

Brun del Ré

DBL Dominican Big Leaguer

Berliner Straße 1,

10715 Berlin-Wilmersdorf

Noblego noblego.de
Marken:

Brun del Ré

ADV & McKay Cigars

DBL Dominican Big Leaguer

La Regenta

La Rosa de Sandiego

Monte Pascoal

Blackbird

Aura E.P. Carrillo Shengxiao Limited Edition

Grunewaldstraße 14-15,

10823 Berlin

TASTE it tase-it-glienicke.de
Marken:

Brun del Ré

DBL Dominican Big Leaguer

ADV & McKay Cigars

Hauptstraße 65,

16548 Glienicke

Weinhandlung F. Schollenberger www.weinhandlung-schollenberger.de
Marken:

La Rosa de Sandiego

ADV & McKay Cigars

Brun del Ré

Blackbird

Barnstorfer Weg 22
18057 Rostock

Wolsdorff Tobacco Hamburg wolsdorff.shop
Marken:

ADV & McKay Cigars

Brun del Ré

Spitaler Str. 16,
20095 Hamburg

Hacico hacico.de
Marken:

Monte Pascoal

DBL Dominican Big Leaguer

ADV & McKay Cigars

Brun del Ré

Kolumbus

Dunbarton

La Rosa de Sandiego

Industriestraße 18,

25469 Halstenbek

Rauchr.de rauchr.de
Marken:

Monte Pascoal

Brun del Ré

Kolumbus

ADV & McKay Cigars

DBL Dominican Big Leaguer

Industriestr. 18,

25469 Halstenbek

Lindenkroog Bar & Zigarrenlounge lindenkroog-ol.eatbu.com
Marken:

Brun del Ré

La Rosa de Sandiego

Lindenstraße 17,
26123 Oldenburg

Riemann´ s Lifestyle & Genuss www.riemanns-online.de
Marken:

Brun del Ré

IM Mitteldorf 15-17,
30938 Großburgwedel

Crüwell Tabakhaus cruewell-tabakhaus.de
Marken:

Brun del Ré

Obernstraße 1a

33602 Bielefeld 

Wolsdorff Tobacco Kassel
Marken:

Brun del Ré

ADV & McKay Cigars

DEZ
Frankfurter Str. 225,
34134 Kassel

Wolsdorff Tobacco Fulda
Marken:

Brun del Ré

ADV & McKay Cigars

Universitätsplatz 1,
36037 Fulda

Wolsdorff Tobacco Göttingen
Marken:

Brun del Ré

ADV & McKay Cigars

Weender str. 70,
37073 Göttingen

Wolsdorff Tobacco Braunschweig
Marken:

ADV & McKay Cigars

Brun del Ré

Schlossarkaden
Platz am Ritterbrunnen 1,
38100 Braunschweig

Linzbach tobacco.de
Marken:

Monte Pascoal

Brun del Ré

ADV & McKay Cigars

Graf-Adolf-Straße 78,

40210 Düsseldorf 

Cigarworld cigarworld.de
Marken:

Monte Pascoal

Brun del Ré

Kolumbus

ADV & McKay Cigars

DBL Dominican Big Leaguer

La Regenta

Blackbird

La Rosa de Sandiego

Dunbarton

The Bouncer

Aura E.P. Carrillo Shengxiao Limited Edition

Dissim

The OX Society

Burghofstraße 28,

40223 Düsseldorf 

Cigarren Baydar & Sahin zigarrenlounge-essen.de
Marken:

Brun del Ré

ADV & McKay Cigars

DBL Dominican Big Leaguer

Aura E.P. Carrillo Shengxiao Limited Edition

Hollestraße 1,

45127 Essen

Wolsdorff Tobacco Gelsenkirchen wolsdorff.shop
Marken:

Brun del Ré

ADV & McKay Cigars

Hochstraße 10
45894 Gelsenkirchen

Whiskyhort shop.whiskyhort.com
Marken:

Brun del Ré

ADV & McKay Cigars

DBL Dominican Big Leaguer

Blackbird

La Rosa de Sandiego

Nohlstraße 67,

46045 Oberhausen

Tabakhaus Balster tabakhaus-balster.com
Marken:

Brun del Ré

ADV & McKay Cigars

Halterner Straße 98,
46284 Dorsten

Werner Bunn Zigarren & Spirituosen
Marken:

Brun del Ré

ADV & McKay Cigars

La Regenta

Monte Pascoal

Moselstraße 4,

47051 Duisburg

Börgmann Tabakwaren
Marken:

Brun del Ré

La Regenta

ADV & McKay Cigars

DBL Dominican Big Leaguer

Monte Pascoal

La Rosa de Sandiego

Augustastraße 53,

47198 Duisburg

Finest Tobacco & More finest-tobacco-and-more.de
Marken:

Brun del Ré

La Regenta

ADV & McKay Cigars

DBL Dominican Big Leaguer

An der Münze 14,
47533 Kleve

Zigarrenhaus Lünger
Marken:

Brun del Ré

ADV & McKay Cigars

La Rosa de Sandiego

Krefelder Straße 10,

47839 Krefeld-Hüls

Zigarren Fincke zigarren-fincke.de
Marken:

Brun del Ré

Hammer Straße 63,

48153 Münster

Pfeifen Heinrichs peterheinrichs.de
Marken:

Brun del Ré

ADV & McKay Cigars

DBL Dominican Big Leaguer

La Regenta

Voltastraße 17

50129 Bergheim

Brühler Whiskyhaus www.whiskyhaus.de
Marken:

Brun del Ré

Kolumbus

ADV & McKay Cigars

La Regenta

La Rosa de Sandiego

DBL Dominican Big Leaguer

Balthasar-Neumann-Platz 28-30,

50321 Brühl

Zigarrenwelt zigarrenwelt.de
Marken:

Brun del Ré

ADV & McKay Cigars

DBL Dominican Big Leaguer

Dunbarton

Kaiser Wilhelm Ring 12,

50672 Köln

Em Tabaksdösje zigarren-traum.de
Marken:

Brun del Ré

ADV & McKay Cigars

La Regenta

Dunbarton

Buchheimer Str. 50,

51063 Köln

Onlineshop Tabakoos https://www.ebay.de/usr/tabakoos
Marken:

Brun del Ré

DBL Dominican Big Leaguer

Kolumbus

ADV & McKay Cigars

La Regenta

Monte Pascoal

Dunbarton

La Rosa de Sandiego

Scheuermühlenstraße 59,
51147 Köln

Schneiderwind schneiderwind.de
Marken:

Monte Pascoal

ADV & McKay Cigars

Brun del Ré

DBL Dominican Big Leaguer

Kolumbus

Lindenplatz 11-12,

52064 Aachen

Wolsdorff Tobacco Bonn wolsdorff.shop
Marken:

Brun del Ré

ADV & McKay Cigars

Poststr. 24,
53111 Bonn

C. Cigars c-cigars.de
Marken:

ADV & McKay Cigars

Brun del Ré

DBL Dominican Big Leaguer

La Rosa de Sandiego

Dunbarton

Dissim

Trierer Straße 18,

54516 Wittlich

Zigarrenlounge Reiner Genuss
Marken:

Brun del Ré

Keppentaler Weg 10
55286 Wörrstadt

Wolsdorff Tobacco Koblenz wolsdorff.shop
Marken:

Brun del Ré

ADV & McKay Cigars

Am Plan 2,

56068 Koblenz

Casita del Tabaco casitadeltabaco.de
Marken:

Brun del Ré

ADV & McKay Cigars

Mittelstraße 75,
58285 Gevelsberg

Wolsdorff Tobacco Hamm wolsdorff.shop
Marken:

Brun del Ré

ADV & McKay Cigars

Allee-Center,
Richard-Matthei-Platz 1,
59065 Hamm

Zigarren Rohn
Marken:

Brun del Ré

ADV & McKay Cigars

Kolumbus

DBL Dominican Big Leaguer

Monte Pascoal

Blackbird

La Rosa de Sandiego

Dunbarton

Hauptwache-Passage

B-Ebene,

60313 Frankfurt am Main

Poppe & Poppe
Marken:

Brun del Ré

Parkstraße 18,

61231 Bad Nauheim

Der Weinladen derweinladen-rodgau.de
Marken:

Brun del Ré

ADV & McKay Cigars

Ludwig Erhard Platz 2-4,

63110 Rodgau

Schanz Tabak
Marken:

Monte Pascoal

Kolumbus

Brun del Ré

Neustadt 25,

63645 Büdingen

Zigarrenhaus Menrath
Marken:

Brun del Ré

Monte Pascoal

ADV & McKay Cigars

Kolumbus

DBL Dominican Big Leaguer

Treibgasse 5,

63739 Aschaffenburg

Feingeist GmbH fein-geist.de
Marken:

ADV & McKay Cigars

La Regenta

Monte Pascoal

Brun del Ré

DBL Dominican Big Leaguer

Klinger 1c,
63776 Mömbris

Tabakhaus Falkum falkum.de
Marken:

DBL Dominican Big Leaguer

Monte Pascoal

ADV & McKay Cigars

Brun del Ré

Hauptstraße 30,

63897 Miltenberg

Rum Company rumcompany.de
Marken:

Brun del Ré

ADV & McKay Cigars

DBL Dominican Big Leaguer

Hans Stiglitz Weg 2,

63897 Miltenberg 

M & Z Point
Marken:

Brun del Ré

ADV & McKay Cigars

DBL Dominican Big Leaguer

Eberstädter Str. 71,

64319 Pfungstadt 

Rauchkultur Seiler rauchkultur-seiler.de
Marken:

Brun del Ré

Monte Pascoal

DBL Dominican Big Leaguer

ADV & McKay Cigars

Bahnhofstraße 19,

64625 Bensheim

118,4 news & more 118komma4.de
Marken:

Brun del Ré

ADV & McKay Cigars

Kolumbus

La Regenta

DBL Dominican Big Leaguer

La Rosa de Sandiego

Fabrikstraße 2,

64625 Bensheim

Tabaklädsche tabalaedsche.com
Marken:

Brun del Ré

ADV & McKay Cigars

Marktstraße 20,

67655 Kaiserslautern

Neuhauser Tabakladl neuhauser-tabakladl.de
Marken:

Brun del Ré

Winthirstr. 9A,
80639 München

Billy's Kitchen & Bar www.bistrobillys.de
Marken:

ADV & McKay Cigars

Brun del Ré

DBL Dominican Big Leaguer

La Rosa de Sandiego

Dunbarton

Schleissheimer Straße 303,

80809 München

Bermuda Spirit Company Ulm
Marken:

Brun del Ré

ADV & McKay Cigars

DBL Dominican Big Leaguer

Hafengasse 28,
89073 Ulm

Casa del Puro casadelpuro.de
Marken:

ADV & McKay Cigars

Brun del Ré

DBL Dominican Big Leaguer

Monte Pascoal

Hauptmarkt 9,
90403 Nürnberg

Wolsdorff Tobacco Erlangen wolsdorff.shop
Marken:

ADV & McKay Cigars

Brun del Ré

Nürnberger Straße 7,
91052 Erlangen

Tabakwaren Zeller
Marken:

Brun del Ré

Stadtturm / Aprilgasse 3,
94315 Straubing