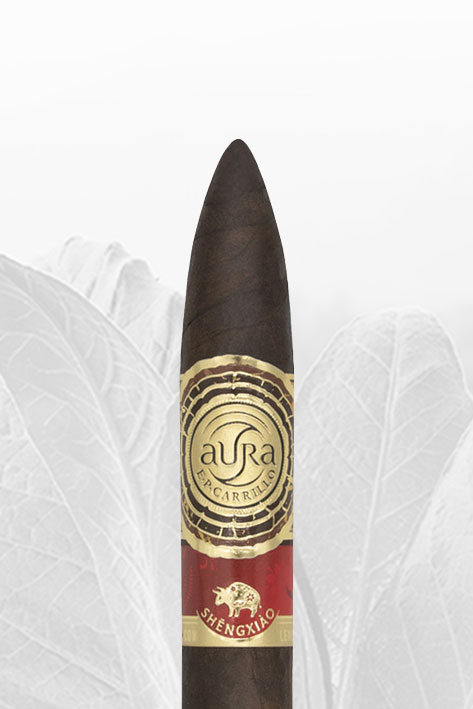 Aura E.P. Carrillo Shengxiao Limited Edition
Dominican Republic
Aura E.P. Carrillo Shengxiao Limited Edition

|

12er Kiste| 6 1/8 x 52 Torpedo

|

12 verschiedene Blends
100.00 € per Cigar
EP Carrillo has released a new cigar for the Asian market called "Aura EP Carrillo Shengxiao Limited Edition". The cigar trader Ernesto Perez-Carrillo blended the cigars as a nod to the Chinese zodiac and Asian culture as a whole. The new limited edition blends will be sold primarily in Asia but are also available worldwide including the German market.
As January 22nd marks the beginning of the Year of the Rabbit for the Chinese Lunar New Year, Aura is said to celebrate each of the 12 animal personalities of the Chinese Zodiac, known in Mandarin as "Shengxiao". And while traditional cigar boxes contain cigars made from just one blend, the 12 cigars in the Aura Box are a dozen different smokes, specially blended to represent the personality of each zodiac sign.
"Blending the Aura cigar requires the right energy (aura) and state of mind", said Ernesto Perez-Carrillo, alluding to the brand's slogan, "Driven by Energy". In the Chinese culture, Shengxiao represents the animal personality corresponding to the year we were born. The blending process for Aura and ultimately the smoking experience is meant to represent the balance between mind, body and energy.
The 12 torpedo-shaped cigars measure 6 1/8 inches by 52 ring gauges. No two blends are the same, but all contain tobaccos that are handpicked and aged for at least five years. The new cigars are rolled in the Dominican Republic at the La Alianza factory. Each handcrafted mahogany box contains a set of cards detailing each cigar blend and their corresponding animal personalities.
The new brand series was developed in cooperation with the Singapore-based distributor "Cigar Specialist International". Only 2,500 cases of the limited series were produced and they will be shipping to retailers over the next few weeks.
Status: 02.01.2023
Name
Marken
Ort
Noblego noblego.de
Marken:

Brun del Ré

ADV & McKay Cigars

DBL Dominican Big Leaguer

La Regenta

La Rosa de Sandiego

Monte Pascoal

Blackbird

Aura E.P. Carrillo Shengxiao Limited Edition

Grunewaldstraße 14-15,

10823 Berlin

Cigarworld cigarworld.de
Marken:

Monte Pascoal

Brun del Ré

Kolumbus

ADV & McKay Cigars

DBL Dominican Big Leaguer

La Regenta

Blackbird

La Rosa de Sandiego

Dunbarton

The Bouncer

Aura E.P. Carrillo Shengxiao Limited Edition

Dissim

The OX Society

Burghofstraße 28,

40223 Düsseldorf 

Cigarren Baydar & Sahin zigarrenlounge-essen.de
Marken:

Brun del Ré

ADV & McKay Cigars

DBL Dominican Big Leaguer

Aura E.P. Carrillo Shengxiao Limited Edition

Hollestraße 1,

45127 Essen